Review: Season Three, Episode Eighteen
23-11-2020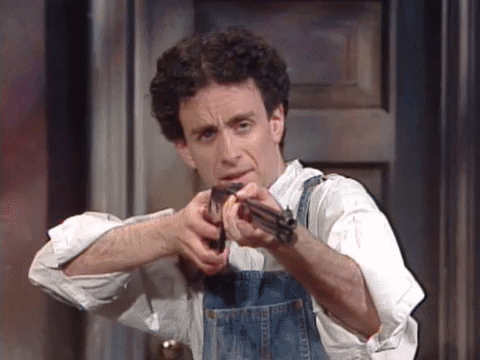 Today we'll be reviewing Kids in the Hall Episode 18 of Season 3. CBC Gem episode link: https://gem.cbc.ca/media/kids-in-the-hall/season-3/episode-18/38e815a-00960860b05

So let's kick off with our sketch rundown….We've got: 
A short opening that gives us a dramatic on-stage rendition of the end of Old Yeller (featuring a dog covered in shaving cream)

Porn Star Employee: Danny Husk is fired by his boss when he finds he has moonlighted as porn star Blade Rodgers, but only because he wants to produce more of his magical films

What If Guy: Mark imagines 10 ways to to stand up an obnoxious rube Bruce, and still gets punched in the face

Vice: Buddy Cole reviews how far your vices should go with an essential piece of advice: "moderation within reason"

Old Yeller 2: A reprisal of the Old Yeller ending, but with the dog replaced by the baby born at Woodstock 

Rod Torfulson's Armada: High school band Armada is bulldozed by Rod's dad who eventually pushes the group to rename itself: Rod Torfulson's Aramada featuring Herman Menderchuck

Horsey is Your Daddy: where posh daughter Dave is told that "horsey" is actually her dad. But the real treat here is this is yet another dramatic ending to Ol Yeller. Blood spattering ensues.
Categories | Episode Review
Filetype: MP3 - Size: 25.35MB - Duration: 18:27 m (192 kbps 44100 Hz)