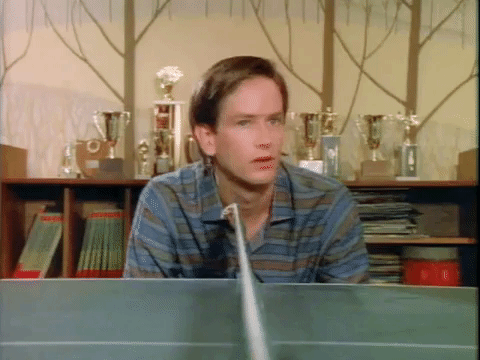 Today we're reviewing the 8th episode of the first season of The Kids in the Hall, which originally ran on December 19, 1989! CBC Episode link: https://watch.cbc.ca/media/kids-in-the-hall/season-1/episode-8/38e815a-009568f788c
The sketches in this episode are: 
Ping Pong: Mark McKinney is an annoying spectator while the rest of the troupe plays rapid fire rounds of ping pong.
Pre-Vacation Family Blowout: Bruce McCulloch is an irate father anxious to get on the road to vacation, but his wife  - Scott Thompson - is worried about son Dave Foley not coming home and assumes he must have spent the night in a crack house. Hilarity ensues.
Chain Gang: An upmarket food critic is recognised by two characters from his past - when he was a criminal tied to a chain gang
Nobody Likes Us: Dave Foley and Kevin McDonald are a couple of downers, responding to a declined loan application by hanging themselves outside the bankers house, but fail to even do that properly. How depressing!
Buddy Cole is back: and this time he's using dinosaur metaphors to paint of a picture of the characters overtaking the gay bars.
Interracial Couple: Where we're again haunted by the Kid's use of blackface - this time to aid a joke about how a Dave Foley's character Susan is convinced her parents are racist against her black boyfriend Scott Thompson - but she's just insane. They're actually really lovely.